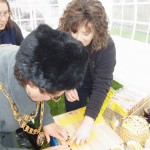 Lady Mayor of Crawley, Carol Eade was more than happy to pause her tour of the Ifield May Fayre to roll a beeswax candle, something which she had never done before – much to the interest of crowds of onlookers.  She was delighted with her candle.
Mick Jones, 2002 Com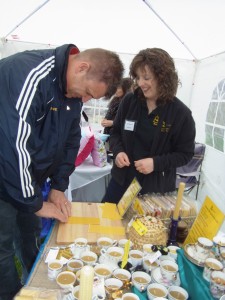 monwealth Gold Medal winner for the hammer, more used to throwing a 16 pound hammer  (weighing almost the same as 8 bags of sugar) d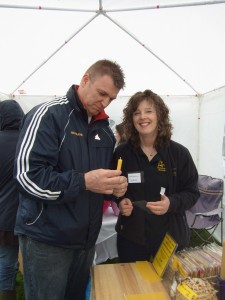 elicately rolled his beeswax candle.  With his inimitable charm and sense of humour he enjoyed this at the Ifield May Fayre this year.  He promised it would grace the family meal table that evening and I've been told that he was chuffed with how well it burned.  Thanks to Mick and to your lovely family who followed in their father's footsteps and made their own candles too.
See here for Lord Canarvon at the 2011 South of England Show rolling his natural beeswax candle with Dargon's Breath
I'm looking forward meeting this year's special guests.