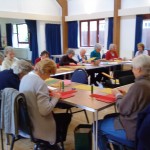 Workshops for groups of all ages, such as school children, Guides, Scouts, Women's Institute, youth groups, church groups, U3A,  candle making parties at home
I talk about the honey bee and its place in our world and ways in which they can enhance the survival of these valuable creatures.  This is followed by a candle making demonstration and then the attendees make their own candles.  This is a sociable time where people from all ages and abilities make natural beeswax candles they are proud of.
This can be in a hall, your regular meeting place or in someone's home.  You let me know what you want from the workshop and we can design the session together.
Contact me to arrange a workshop to make your own beautiful beeswax candles.
Looking forward to seeing you soon.
Min