I had a brilliant time at the National Honey Show with the opportunity of talking with some amazing people.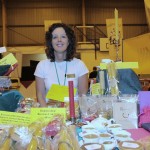 Sales were fantastic as people understood about the beneficial properties of natural beeswax candles.  Dragon's Breath received praise from the chairman of the show, saying that we "added an extra dimension" to the show.  Many many people praised the quality of my beeswax candles and how attractively packaged and presented they are.
Try them for yourself – contact me.
Click on the link to the National Honey Show and look at the slide shows, especially 2, 3 and 6 where Dragon's Breath natural beeswax candles are photographed.  Also have a look at slide show 6 where the cups are presented; I particularly liked the pyramid display which was beautiful and the honey looked like gold as the sun shone through the window onto it.  Also well done to Chalfonts Beekeepers for a successful event and winning so many awards.
I would also like to thank my willing helpers: Lou, Jane and Derek, staff and other traders for the support, laughter and camaraderie during the three days.
If you visited my stand and picked up a card or bought candles or a candle making kit – thank you.  Please leave a comment to let me know your thoughts.
Min